Payments
You can choose from several payment methods, depending on your location. These options will show up during the order process. The websites name will not be shown on your bankstatement.
PAYMENT METHOD
FEE
AVAILABLE IN
TRANSFER TIME
Cash App
Free
US & UK
Instant
Zelle
Free
United States
Instant
Cryptocurrency
Free
All Countries
Within 2 hours
iDeal
Free
All Countries
Instant
Cash
Free
All Countries
3 working days – 1 week
We don't accept Checks.
Buy Bitcoin with Cash App
First you have to download the Cash App from the Android or Apple app store. Download Here
Before getting started you'll need to make sure you have some money in Square Cash. You can do that by adding money directly into your account, or just wait until someone sends you money with Cash and then use that to buy Bitcoin. You'll also need to agree to the company's new terms of service for virtual currency.
To Buy Bitcoin (BTC) in Cash App:
1. Open your Cash App, select Cash & BTC or the dollar amount at the top of your screen.
2. You can swipe left or select the BTC symbol in the upper right-hand corner.
3. Select Buy, you can use the slider or swipe up to enter the amount you'd like to purchase. Press Buy BTC.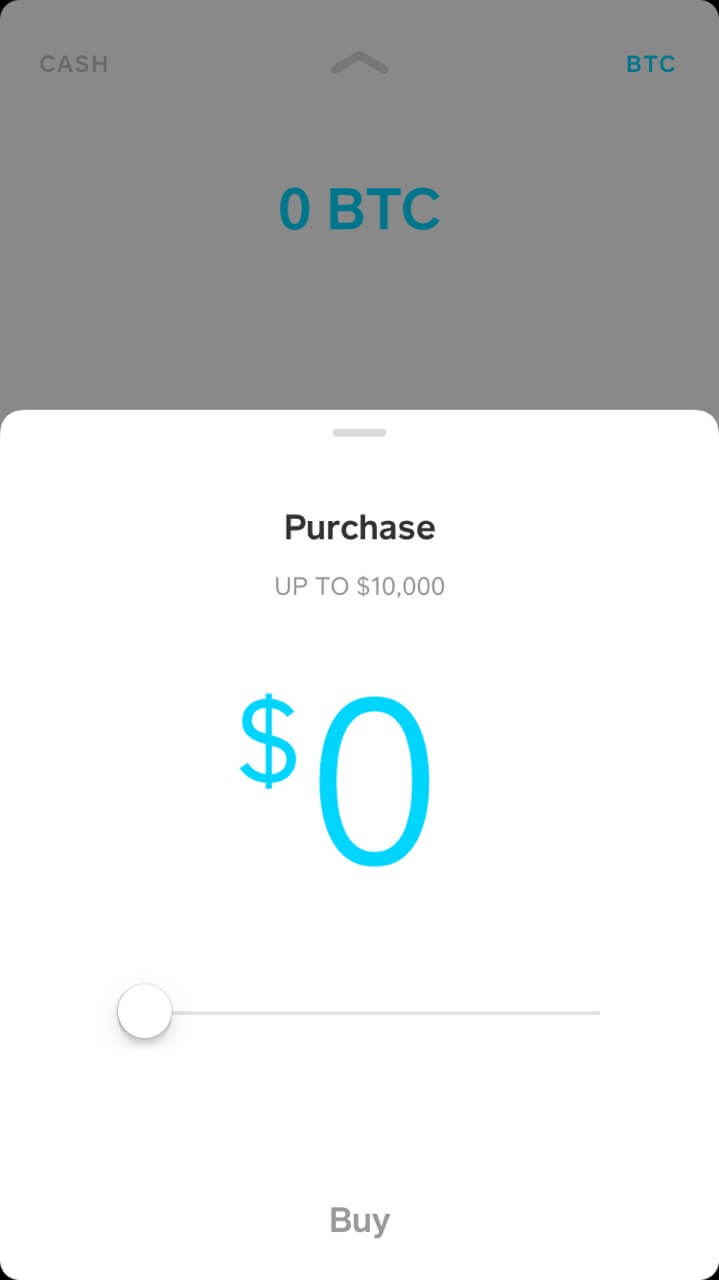 4. Enter your Cash pin or use your Touch ID for security. Press Confirm.
Note: Before you can purchase Bitcoin (BTC) Cash App will pull money into your balance. They may require you to enter some additional identification information.
How to Withdraw Bitcoin (BTC) to our Wallet?
To withdraw your Bitcoin to an external wallet follow the steps below:
Open your Cash App, Select the profile icon in the upper-left.
Scroll to Funds and Select Bitcoin.
Before you can withdraw your funds, you will need to verify your identity.
Once you've verified your identity, Select "Transfer Out" and Press Confirm.
Scan the QR code from your external wallet or select "Use Wallet Address" at the bottom of your screen.
Press Confirm.
Note: Once you've processed your withdrawal in Cash App, your Bitcoin (BTC) will be sent to your external wallet. Transferring Bitcoin (BTC) can take time, so please allow up to a few hours for the transfer to complete.
FAQ
How much does buying Bitcoin cost?
Cash App does not charge an additional percentage or fixed dollar amount. They use a price calculated from the quoted mid-market price, inclusive of a margin or speed. The mid-market price is a combined price of BTC across major exchanges to give the user an average price.
Zelle Pay 
Get started by enrolling your email or U.S. mobile number through your mobile banking app or with the Zelle app.
Enter the preferred email address or U.S. mobile number of the recipient. You can send money to almost anyone1 you know and trust with a bank account in the U.S.
Enter the amount to send. Your recipient gets a notification explaining how to complete the payment, simply and quickly.
Buy Bitcoin Instantly with Visa or Mastercard on Coinmama
Looking to buy Bitcoins fast? Well, you have come to the right place! All you need to do is to follow these three simple steps: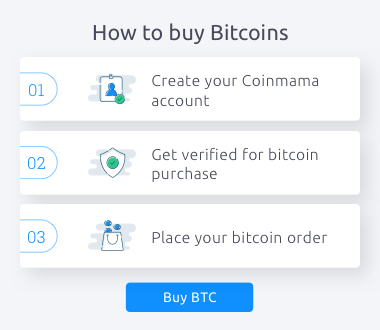 Create Your Coinmama Account

Sign up and create your Coinmama account with just a few clicks. A confirmation link will be sent to your email at the end of the process.

Get Verified for Bitcoin Purchase

You need to verify your account before you can buy BTC with a credit or debit card. This involves the uploading of your passport, national ID or other documents based on your preferred level of verification. Once approved and cleared, you can buy Bitcoins for up to 15,000 USD with your credit/debit card.

Place Your Bitcoin Order

Log in to the Coinmama account you created in Stage 1, enter the desired wallet address, fill out the form and buy Bitcoin instantly.
Buy Bitcoin with Debit Card
Not got a credit card? No problem. You can also buy Bitcoin with a debit card. Coinmama currently accepts payments via Visa and Mastercard. Please note that American Express, Discover and PayPal are currently not accepted. Regardless of the method you choose, you need to make sure that the card belongs to you.
Please note that you'll pay a commission due to the processing fees that come with your card payments. After your account is verified and a purchase is made you will receive your Bitcoin within a few minutes. Coinmama offers industry-leading purchase limits. For more information, refer to our Knowledge Base.
Buy Bitcoin with Bank Transfer
Looking for another payment option? You can also buy Bitcoin with a bank transfer. We currently accept orders of up to 12,000 USD per day, regardless of other methods you may have used, offering higher limits and lower fees.
This method is currently available in most European Union (EU) countries and the United Kingdom (UK) using SEPA bank transfer and in the rest of the world through SWIFT.
Why Bitcoin?
Bitcoin (BTC) really took off during 2017 and is still going strong. So what is this cryptocurrency all about? In a nutshell, Bitcoin enables payments to be sent between users without passing through any central authority, such as a bank or payment gateway. Here are a few facts about Bitcoin you need to know:
Bitcoin is decentralized. No single institution controls the BTC network. The integrity of the encrypted transactions is not owned by anyone.
Trading Bitcoin fractions is extremely easy. The smallest unit of a bitcoin is called a Satoshi. It is one hundred millionth of a Bitcoin (0.00000001).
As of January 2018, around 16.7 million BTC were in circulation all around the world. The maximum amount currently stands at 21 million BTC.
With Coinmama, you will have 24/7 access to your account for making new Bitcoin purchases. Our platform is fully responsive and can be accessed on-the-go from your computer, laptop, smartphone or tablet. Respond faster to crypto market developments and optimize your Bitcoin investments with Coinmama.
There are many ways to purchase Bitcoin today, as I outlined in my article "Your First Bitcoin (How and Where To Buy It)". I mentioned there that I often set up my friends with a "starter pack" of what I think are the two most accessible platforms for purchasing and trading crypto. Coinbase, for purchases and Binance for trades.
In this article, I'll give you a step-by-step guide for exactly what to do and expect when purchasing Bitcoin on Coinbase.
In a nutshell, here is what we will be doing:
Creating a new account
Verifying your identity
Adding a payment method
Making your purchase
(optional) Withdrawing your Bitcoin to a wallet or exchange
What you'll need:
An email address
A phone number that can receive an SMS (Google Voice seems to work)
Your passport or other ID (possibly depending on your country/state of residence)
1. Creating Your Account
First things first, you'll need to sign up else. I highly recommend using a referral link to sign up, as you and your referrer will both receive a free $10 of Bitcoin after your first purchase of at least $100. My referral link ishttps://www.coinbase.com/join/594a48c47f0f770b359109c2 and I would be grateful if you used it, but of course you can also get a link and the same deal from any friend you might have who already has a Coinbase account.
2. Verifying Your Identity
The signup process for Coinbase is fairly intuitive, though it has changed several times and may vary according to your geographical location.
Some people find the number of steps involved annoying, which is understandable. You will probably have to verify your email, a phone number (by receiving an SMS code), and possibly even show your passport via webcam before you can start your purchase. While this can be a little tedious, Coinbase's interface keeps it simple and friendly, and it appears they're doing everything they can to keep your account secure.
3. Adding a Payment Method
You have a few different options for buying on Coinbase. You can use a debit card, bank transfer, or wire transfer. (Previously credit card purchases were also possible, but despite the fact that this is still true according to Coinbase's help pages, it's currently not possible to add a credit card as a payment method.)
Each of these options has pros and cons, in terms of the fee and the amount of time it takes for your purchase to be completed.
Debit card purchases are the fastest. As soon as you pay with your card, you will instantly have the Bitcoin in your account. However, debit cards also come with the highest fee. This method is probably good for someone who is thinking about trading their Bitcoin, rather than investing and holding it for the long-term.
Bank transfers have lower fees, but it takes about five days before you receive your Bitcoin. This may not be a big deal if you have no intention to sell/trade/use your coins. If you do want to trade, though, it could be a brutal wait if you see prices on the move. There's a chance that any trading opportunity you find may be gone by the time your coins have arrived in your account. Bank transfers could be a good idea for the person who might want to purchase Bitcoin regularly over time, to dollar cost average their purchases (although there is an even better method for this which I'll talk about in another article).
Wire transfers are also accepted, but this is probably not too interesting for most customers. You'll have to go through a number of extra verifications, and additionally you can't use wire transfers to directly buy Bitcoin, but only to deposit USD into your Coinbase account, which you can then select as a payment method.
4. Making Your Purchase
Once you've added a payment method (and, probably, uploaded your passport/ID) you'll be able to make a purchase. Again the website/app are quite user-friendly and intuitive. But before we press the "buy" button let's have a closer look at:
Coinbase Fees: Debit Card vs. Bank Transfer
You can find a list of all of Coinbase's fee, by payment method and by country, here.
Unfortunately it's not completely accurate. The numbers that I see when I begin to make a purchase simply do not match the theoretical numbers on that page. Sometimes the fee is cheaper, and sometimes (yeah, almost always) it's more expensive.
So let's take a look at what the effective fee would be for a few different purchases.
$100 Purchase: Debit Card vs. Bank Transfer
Here's what a $100 Bitcoin purchase with my Charles Schwab debit card would look like:
And here's the same purchase using a bank transfer from my Capital One account:
As expected, it's cheaper to buy with the bank transfer. It's not a huge difference — the fee is $3.84 with debit card and $2.99 with bank transfer, only 85 cents extra. I end up with an additional 0.0002 BTC by selecting bank transfer in this case, or about 1.2% extra.
If I'm looking to sell or trade that BTC soon, I probably don't care about the 1.2% too much, as it's likely that prices will change by more than that amount in the five days it will take for my Bitcoin to arrive if I pay by bank transfer. That reduced waiting time is worth the extra 85 cents to me.
$1000 Purchase: Debit Card vs. Bank Transfer
Let's see what happens if we add a zero and buy $1000 of Bitcoin instead.
With debit card:
And with bank transfer:
The difference in fees is more significant here. The debit card fee is $38.37, but the bank transfer fee is only $14.68 — less than half! I would save $23.69 by choosing to pay with a bank transfer in this case.
By using my debit card, I would receive 0.1541 BTC, and by using bank transfer 0.1578, a difference of 0.0037 BTC, or 2.4%. Twice as big a difference as it was for our $100 purchase! While it's still true that prices may move more than 2.4% in the five days it takes my Bitcoin to arrive, an extra 2.4% is pretty hard to swallow. In this case I would be pretty reluctant to pay by debit card.
At least for your first purchase, the free $10 that you get from using a referral link helps to counteract the Coinbase fee. In particular if you're buying ~$100 it may be worth more than the entire fee, so you'll receive your Bitcoin for cheaper than the market rate.
5. Withdrawing your Bitcoin (optional)
Once you've determined the best method for your personal needs, based on fees and wait time, and gone ahead and clicked the "Buy Bitcoin" button, you are now the proud owner of some amount of BTC. Congratulations!
So what can you do now? You can leave your BTC in your Coinbase wallet if you want, but I don't recommend it. You can also sell it on Coinbase, but there are better places to do that with lower fees (article coming soon). I recommend moving your BTC elsewhere: either to a wallet (if you want to hold it) or to an exchange (if you want to trade).
Buy Bitcoin with credit card on Changelly
As you may know, Changelly provides you with an option to buy Bitcoin for USD. This is one of the quickest ways to step into the crypto world. Just a few simple steps, and voilà you own money of the future! Now let's take a look at these steps in detail, and see what you should do to buy Bitcoins using your credit card.
1. First off, go to the home page and select USD on the left and crypto you want to buy on the right. Put in the amount of USD you are about to exchange.
2. Here is a screen where you need to input all the necessary information.
Check the amount once again. You can add a little more if you want.
Tell us your BTC wallet address where you are a plan to keep your Bitcoins.
Are you a robot? Then don't tick the box, so we know that 
Read carefully the information below (especially, info on fees) and proceed to the next step only if you agree to these terms.
3. If this is your first time, you will need to verify your identity (just once!)
But first, fill out your Billing Info.
All the transactions with fiat money are processed via our partner Simplex, so don't get alarmed when you see their logo on the page.
4. Verify it via your email and phone.
5. Now enter your payment details.
6. Take a selfie where you are holding your bank card in your hands. For safety, cover middle 8 digits with your fingers.
7. Now wait until your verification is done. Once verified, your transaction will be processed via Simplex, and you will get BTC in your destination wallet.
Looks complicated, but in fact, it will take you just a couple of minutes.
We wish you a pleasant entrance into the Crypto world!
If you have any questions or feedback please feel free to contact us at support@changelly.com
How to buy Bitcoin in India
iDEAL
Would you like to receive your order fast and do you have an account with ABN AMRO, ASN Bank, Bunq, Friesland Bank, ING, Knab, Rabobank, SNS Bank, Regio Bank or Triodos Bank? In that case you can pay safe and quickly with iDEAL, the easiest way to pay online in The Netherlands.
 Why iDEAL?
You pay quickly, simple and safe with your own bank
You don't need any special software to use iDEAL
Paying with iDEAL is free.
The iDeal payments will be executed on the secured payment platform of our paymentprovider.